GBEA WINNER - Digital Engagement Award!
In the heart of Geelong, amid the bustling world of business, there's a team that thrives on digital creativity and innovation. Our Viewpoint Digital Media team – a dedicated crew of passionate individuals – recently embarked on a journey that left us awestruck and humbled.
Picture this: a room filled with excitement, anticipation, and a touch of nervous energy. It's the 2023 Geelong Business Excellence Awards, a night that promises to be unforgettable. The atmosphere is electric, and our hearts are pounding as we gather to celebrate the incredible achievements of local businesses.
And then it happens – the moment we've been waiting for. Our name is called out, echoing through the room like music to our ears. We are the winners of the Digital Engagement Award! 🌟
As we make our way to the stage, our CEO, Dominique, is overwhelmed with emotion. A smile lights up her face, but she can't help but feel a lump in her throat as she looks up to see 600+ people awaiting her acceptance speech. She graciously accepts the award, which is sponsored by Webforce5, all the while holding back tears of joy. It's a scene that captures the essence of our journey – the dedication, the hard work, and the sheer love for what we do.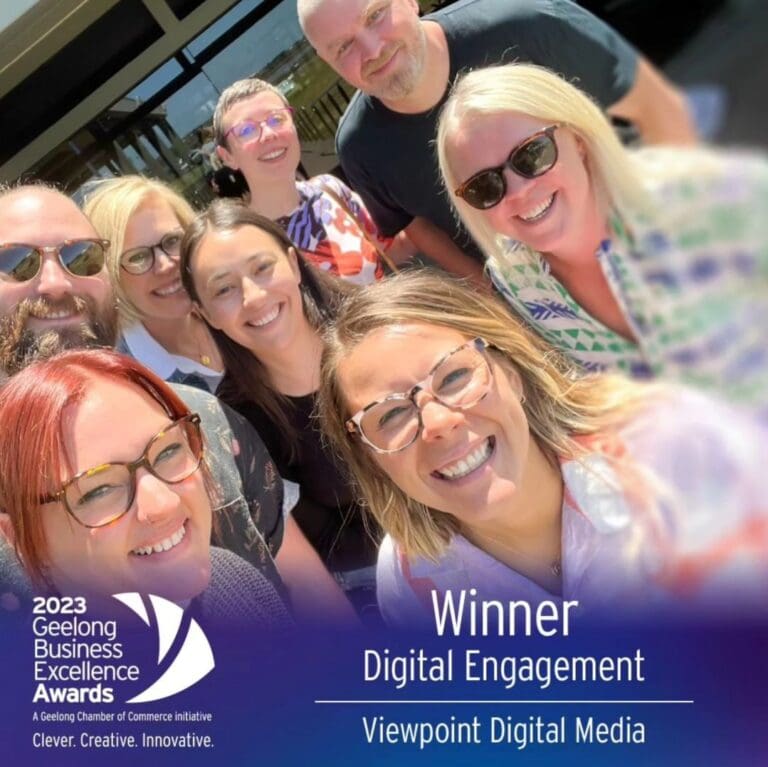 But here's a little secret – those tears of happiness couldn't be contained for long! 😂 After the ceremony, as we basked in the glow of our achievement, laughter and tears flowed freely. It was a truly humbling experience, one that reminded us of the power of perseverance and passion.
In the whirlwind of the business world, we often find ourselves caught up in the rush, constantly striving for more. We seldom pause to reflect on how far we've come. The Geelong Business Excellence Awards were a powerful reminder for us to do just that – to celebrate our achievements, both big and small.
To our clients – past, present, and future – we extend our deepest gratitude. Your trust in us to handle your digital marketing has been the driving force behind our success. Our Viewpoint team loves what we do, and we couldn't be prouder to be part of the vibrant Geelong and the Bellarine Peninsula community.
This community, with its unwavering support for small businesses like ours, is the wind beneath our wings. It's a place where dreams take flight, and we are privileged to stand among those who cheer on every step of the journey.
So here's to us – a team driven by creativity, inspired by innovation and motivated by the love of our craft. We've come a long way, but the journey is far from over. With every award, every client success story, and every moment of laughter shared, we are reminded of the incredible adventure that lies ahead.
Thank you to our community; together, we'll continue to create digital magic and celebrate the spirit of small businesses. 🌟🙏
#gbea2023 #GeelongCommunity #DigitalEngagement #ViewpointDigitalMedia
Related Posts